Integra Enclosures has launched the redesign of our new website, www.integranenclosures.com, to provide visitors and customers with the ultimate user experience.
Our new website has improved navigation and functionality, allowing customers to easily find, view and shop Integra's extensive product portfolio, including our Impact, Premium, and Genesis enclosures, as well as our newest product line, StrongBox.
To help users quickly and easily navigate the site to find the right product for them, our new site includes:
Complete product pages based on size and material to reduce the number of user clicks to navigate throughout the website and easily locate products.
Improved e-commerce functionality, allowing customers to add items to their cart without leaving the product page, and the ability to filter enclosures by product lie, protection rating, enclosure material, size, and enclosure features.
Adaptive capabilities for all browsers, tablets, and mobile devices.
Best viewed in a supported browser with the latest browser version available.
Integra's new website will be continuously updated with news featuring product launches, product resources, and pricing information.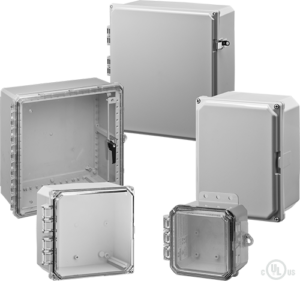 Since 2002, Integra Enclosures has been known for our expertise on polycarbonate enclosures and we are pleased to announce we are expanding into stainless steel! Integra Enclosures new revolutionary StrongBox NEMA 4X Stainless Steel Line is fully customizable to fit your application; tell us what you want and we'll deliver within the industry's fastest lead times.
Our stainless steel enclosures are designed to protect any indoor or outdoor application against corrosion, chemicals and wet conditions. It is constructed with UV protected and impact resistant material to ensure protection in any environment. Using our state-of-the-art technology and proven designs, we specialize in the custom sizes and configurations that you need.
Product Features:
Custom Sizing
Custom Machining
Custom Back Panels
Multiple Latch Design Options
Multiple Mounting Options
Multiple Hinge Configurations
Back Panel Standoffs Standard
Grounding Lug Standard
Foam-In-Place Polyurethane Gaskets
Grade #4 Finish
Our new website also features several new Impact Line enclosures, including the 5x5x3 and 6x4x4. Stay tuned for Integra's Product Catalog, Volume 20, coming soon!